The nautical décor and friendly service create a cozy atmosphere. The varied menu offers food of great quality for a fair price.

Would you like to enjoy your breakfast in the Brasserie? A breakfast buffet is served every Saturday, Sunday and Monday from 09.00 a.m. till 11.00 a.m. The price of this buffet is € 11,45 euro per person. From Tuesday till Friday you can order some delicious sandwiches from the menu.
At the large outdoor terrace you can relax in the sun enjoying a cool drink, while the kids play in the spraypark. A real holiday feeling!
A cozy old-fashioned pub, where you can meet other guests while drinking a cool beer or a glass of wine.
This old-fashioned pub is also a perfect place to play cards or to watch soccer. Themed nights are regularly organized here.
Duincafé Storm can be found at the center square, next to the Eterij Onder de Duinen.
Fancy a snack, a freshly baked pizza or fried fish? Visit the Eterij!
At De Eterij you can take away delicious fresh fries, pizza's and other complete meals.
Make the most of your holiday and let the pizza be delivered to your tent!
Fancy a refreshing ice cream? Come to the patrIJSpoort and create your own Juultje Jizzle or pick an ice-cream from the extensive assortment.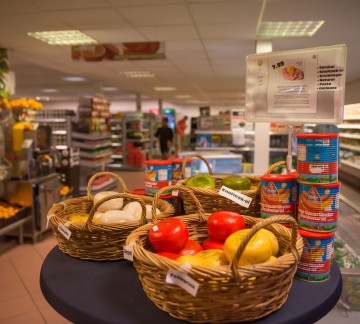 All daily groceries can be bought at the campsite, so that you can quickly continue enjoying your holiday!
You start the day with freshly baked bread and other delicious pastries. There is a fresh produce department with vegetables, fruits, meat and dairy products. Besides that, everything is available for the perfect barbecue!
A candy corner is created especially for the kids. It will be hard to make a choice with all those candies!
Your favorite newspapers and magazines are sold here, as well as cigarettes and postcards. You can even exchange your gas bottle in this multifunctional store!
In short…. everything is at your fingertips so that you can enjoy your holiday as much as possible!
Zuid-Zuid-West is a great place to enjoy a drink and a lovely meal, while watching the sunset. The beach pavvilion is daily opened in summer from 11.00h. You will find Zuid-Zuid-West right behind the dune crossing.